---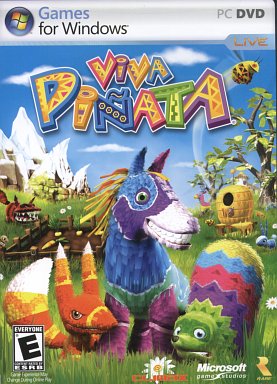 Viva Piñata
Ages: Everyone

The Easter Egg colored Piñatas have made it to the PC, just in time for the green and red Holiday season. The game came out about a year ago, only for the Xbox 360 at that time, depriving PC users of a brightly imaginative game. For those who have played the Sims, the drill is familiar – you are responsible for building, growing, nurturing, clothing and housing your Sims people. In this game, they are Piñatas and you are establishing a garden for them – or maybe a couple of gardens. Think of it as a Sims game dressed up as My Little Pony.
You are in charge of a plot that must be made into a garden that will attract these colorful creatures. First, Piñatas are sighted – a full screen shot, then they visit and if they like it – stay. Now you are in charge of "romancing" them. Once you have a likely pair, build them a house by enlisting the services of Willy Builder. Double click on one of the pair, watch hearts appear, they seek one another, a mating dance appears, the screen fills with a pink and lavender valentine-type doily and then Storkos takes over. Could almost have qualified for an "M" rating. There is sickness and death and bigger piñatas eat smaller piñatas and here the writers are quick to take the sting out by calling them paper Piñatas.
There are a number human-like characters to help you, they all wear masks and all look like characters from a witch doctor training school: Leafto, your guide, cute; Storkos, baby delivery; Dastardos, the Reaper; Patch the doctor; and Seedos, your source for seeds who refused to give me seeds because I accidentally hit him with a shovel. No, you don't hit Piñatas here, that's the Viva Piñata – Party Animals game.
Help is where Climax could have spent more time with the kids. Bubble messages and instructions are much too long, containing too many instructions with no way to recapture the information – shop open click on green, click on blue, select village, open Willy's store, click on head. Leaftos, your guide encourages you to explore. When I hear that word, I think that the designers just got too tired to give out instructions. The game is paced so that players can't get ahead of themselves – but I had some questions that begged for a Google-like search..
Microsoft tries hard to make you join "Live", giving you one month free. You are not penalized if you don't join 'cept you won't get your achievements and won't get your name up on the leader board. The game itself gives you plenty of pats on the head.
It's easy to go on and on about the game – behind all the cuteness it's very deep and there are hours and hours of play. Don't let kids play by themselves – you'll have Whurlm's all over the place.

Fun Factor: Are you willing to work to keep these Piñatas happy?
Reviewed by: Editor - 11/07
Viva Piñata
&copy Microsoft GamesStudio/Climax
Platform(s): WVISTA XP
To Order: Win http://www.amazon.com/ $39.99