---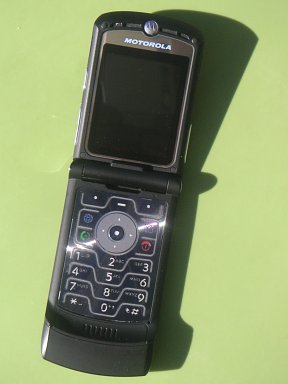 Your voice as a ringtone
Ages: All

Using voice input to create a ringtone on a Motorola RAZR V3
Ringtones are the sounds your (cell)phone will make to let you know that a call is coming in. My personal preference is for short sounds, analogous to a ringing bell, which will repeat until the phone is answered or the caller gives up. Some like to use portions of tunes (or, to the dismay of those nearby, entire songs). Another option is to use a voice announcement, which may even be in the voice of the caller. That way, when your friend, sibling, relative calls, you will hear their voice summoning you to answer the call. We have previously reviewed software that enables you to do this on your PC and then to transfer the recording to your cellphone.
But, your cellphone most likely can record sounds itself, and then you can use the recorded sound as a ringtone without having to go through a PC.
Different models of cellphones and different cellular networks support this in different ways. In the US on the Verizon network, Motorola RAZR V3m phones allow you to record a voice memo and then to associate that memo with one or more entries in your address book. When you are called by a number in your address book that has such an association, instead of the default sound (ringtone) you will hear the recorded sound. You can also specify a specific recording to be used with any incoming call that does not have its own assocation. You may very well be able to do this on your particular cellphone - read the manual carefully.
Things work differently in the US on the Cingular/AT&T network. The Motorola RAZR V3 (and PEBL) phones for that network do not have the ability to directly save a voice recording to the place where the ringtones are kept. There are workarounds that can be found on the internet - what I will describe here came from the motomoders.net website. This method makes use of the fact that when you create and send a multimedia message from the phone, a copy is saved in the "outgoing" message folder, and recordings can be transferred to the ringtone area from there. I have outlined the procedure below for the Motorola RAZR V3. It is similar (but not identical) for the Motorola PEBL.
Go through the following steps in order on your phone:
Press the key with the little Envelope Icon (Messages) to get the Message Center screen, or use the top center MENU button (with the "-" marking) and select Messages to get the Message Center screen.
Select: Create Message
Select: New Multimedia Message. You will get a 'text' screen at this point. Since you don't really want to send a message to anyone, you don't have to enter anything.
Press the button under the INSERT legend on the screen (the top right button on my phone)
Select: Voice Record. You will be instructed "To record a new Voice Record, press and hold Voice key while recording". The Voice key is the single key on the right edge of the flip part of the phone. It takes a few seconds before the screen indicates that the recording has started.
Speak, or have the person whose phone number will be associated with this recording speak, or make a noise or whatever you want. When you release the button the recording will end.
You will now be back at the text screen. Press the button under the OK which appears at the bottom of the display.
The next screen will have the heading Send To. Since you want to keep this yourself, you will wind up sending this to a non-existent number. In most parts of the US, the number 555-5555 will work.
Select: One Time Entry.
Enter 5555555 (or some other number you know that doesn't actually exist), then OK.
The next screen will have the title New Multimedia Msg. Press the button under the SEND which appears at the bottom of the display.

The phone will display please wait, and then an animation of a message being sent. Of course, the destination phone number is not a working number, so it really doesn't get sent. I don't know if you may get charged for sending a multimedia message that never gets sent.

Your screen should now be back at Message Center.

Select: Outbox. The message you just "sent" should be at the top of the list, with an arrow pointing at it, and most likely a destination of "(None)" showing.
Select: The topmost message and press the button under READ. You should hear your recording.
Press the top center button (with the "-" marking) to get the MMS Menu.
Select: Store.
Select: File from the Store? screen. You will get another playback of the recording and a screen showing the filename, duration, size and bitrate of the recording. The filename will be created by the phone, and look somthing like this: smil_vn_1193021744
Press: STORE.
Select: Apply as Ring Tone from the Store Options screen.
Select: DONE.
Select: DONE from the Outbox Msg # screen.
Select: BACK from the Message Outbox screen.
Select: EXIT from the Message Center screen.

Now you have the recording where you want it. At this point you probably should rename it so you can more easily remember what it is.

Select My Stuff from the main menu.
Select Sounds.
Scroll through all the sound files until you find the one you just saved, with the useless name (smil_vn_1193021744 in my case)
Press the top center MENU button to get the Sounds Menu.
Select: RENAME. Press the DELETE button to backup through the name and erase the old name. When the cursor hits the left margin, stop DELETing. Enter a new name for the recording. Press OK when done.

You now have a sound recording of your own making in the sounds directory, and you can apply it as a ringtone to one or more phonebook entries. You can also use it as the alert in the built in alarm function.

Note: The above instructions are specific for a particular series of Motorola cellphones that have been configured by Cingular/AT&T to work on their cellular network. Other series and other brands and other cellular networks will most likely behave differently, but if there isn't some direct way of making a recording on your phone and using it for a ringtone, it is possible that the above principle of sending a multimedia message to nowhere but retaining a copy will get your recording into the right place for use as a ringtone.


Fun Factor: Your mother may be calling!

Posted by: Lou Katz - 09/07

Your voice as a ringtone
Platform(s): Cellphone