---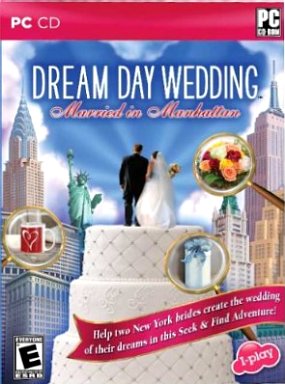 Dream Day Wedding: Married in Manhattan
Ages: General Audience

This game made me homesick. I was married in NYC, and lived in Greenwich Village but never had a white gown and fancy party - so this was make-up time for me. You play the wedding consultant with two clients: Emily and Jason living in Greenwich Village and wanting a semi-funky wedding in Central Park, and Rashell and Nate who want a posh wedding with all the bells and whistles.
It is a search-and-find game through venues appropriate to wedding preparation: a stationary shop, dressmaker, photographer, travel agency, caterer, bride's apartment, ballroom, park and the subway - it is NY after all. There are 42 levels divided between the two weddings - not counting the mini-games. In the two games, about a third of the settings are completely new, the others will be familiar.
There are find and construct episodes that give variation to the simple search-and-find. Objects are logically placed - in most instances, so that items that would likely appear on a table won't be found floating in the air - an improvement that more seek-and-find games could do well to emulate. Music is appropriately wedding-like and quietly classical.
This game is available as downloadable free-trial on I-play
Dream Day Wedding: Married in Manhattan
&copy Elephant/I-play
Platform(s): WVISTA
To Order: Win http://www.amazon.com/ $19.99