---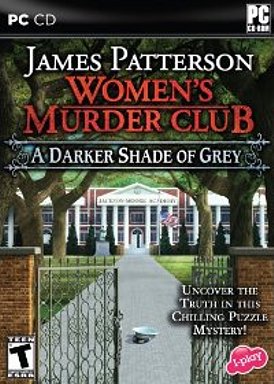 Women's Murder Club: A Darker Shade of Grey
Ages: Teen

This is the second of the Woman's Murder Club mysteries, consisting of a team of four professional women involved in solving crimes - a detective, a lawyer a forensic expert and a reporter. In this story, the body of a young man who has fallen to his death from a cliff in Golden Gate Park in San Francisco is traced to be that of a cadet from a military academy in Charleston, South Carolina. So much for views of San Francisco. Most of the action takes place between the academy and the forensic lab. Action is an unusual term for a game that's all 2d and 3d stills. But that attests to the action that is created by the story - a collaboration of James Patterson and Jane Jensen. The plot thickens, soon there are more suspects than victims. You play as detective Linsay Boxer of the SFPD with short spells as Claire Washburn, medical examiner and as reporter Cindy Thomas.
The format switches between hidden objects and puzzle/tasks, some of which are quite novel and all in keeping with the story. A notebook describes how each of the puzzles works and investigation card files are kept on each important clue so these is no need to jot down information.
While the investigation takes place at a military academy - this is an all-girls project with Linsay getting support from her circle of women friends back at the restaurant.
This game is also available for download from I-play and other casual game portals.

Fun Factor: Good story good gameplay.
Female Factor: An all-girls club of professionals
Player Friendly: Plenty of help to keep players from getting stuck.
Reviewed by: Editor - 03/09
Women's Murder Club: A Darker Shade of Grey
&copy Elephant Entertainment (THQ)
Platform(s): WVISTA XP W2K
To Order: Win http://www.amazon.com/ $19.99