---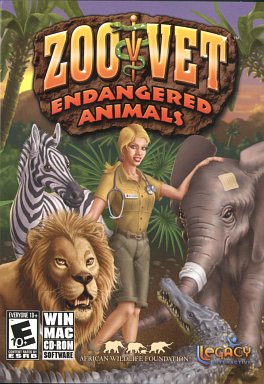 Zoo Vet Endangered Animals
Ages: Everyone 10+

For someone who wants to be a vet, or who loves animals, or for whom just going to the zoo isn't enough, this game will involve them for hours and hours. Players assume the role of a new veterinarian at a world-class zoo. With the help from zookeepers and vet technicians, players care of 30 medical cases ranging from cuts to broken bone and diseases. The animals under your care are elephants, lions, zebras, crocodiles, polar bears and some less spectacular. The zoo keeps them in their appropriate habitat and so you get to recognize which animals inhabit what habitat - tropic, savanna, desert, artic and forest.
Care is divided into six segments - examine, monitor, test, maintain, operate and medicate. Depending upon the level chosen, more or fewer hints are given. You select animals from a map showing the status of the animals health and the urgency of the medical attention needed. You get help, more or less, from depending upon what level you chose at the start of the game. A final Q and A by the kindly head veterinarian will evaluate your performance. This takes the game out of just entertainment and into a learning situation.
For a game with this amount of technical equipment, it would have been good to have a manual other than the one the on the disk - pictures would have been a nice idea. More general help could have been used - the implements - because they are small enough to make them hard to recognize should have been labeled, and release of the currently held implement needs to be more intuitive. I was hoping to have the nurse automatically hand me the instrument - as I've seen on TV.

Fun Factor: Takes work
Female Factor: Evenly divided between male and female characters - not sure about the animals
Player Friendly: Gamer needs more help - even on easy.
Reviewed by: Editor - 12/07
Zoo Vet Endangered Animals
&copy Legacy
Platform(s): WVISTA XP W2K W98SE
To Order: Win http://www.amazon.com/ $19.95