---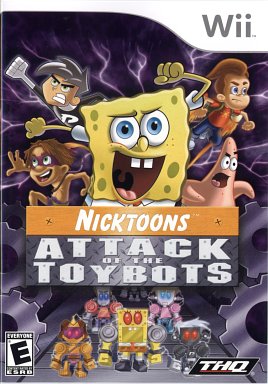 Nicktoons - Attack of the Toybots - Wii
Ages: Everyone

For the Wii, the game is essentially the same game as for the PS2 – Please refer to the review for the PS2. The game is not optimized for the Wii controls – there is no motion sensing movement. The Nunchuck control stick moves the players, Z manages throwing and shooting. On the Remote, up on the control pad changes characters, down a punch/kick, A is jump and B is duck. With all the control functions on the Remote, couldn't they have placed all the functions on it?
If you only have the Wii, and want the game – then you have no choice. Otherwise, why buy the Wii version if it isn't optimized for the Wii and is $20 more expensive?

Fun Factor: Good story - varied game play.
Female Factor: Where are the girls?
Player Friendly: Too much reliance on jumping - difficult and not enough saves.
Reviewed by: Editor - 11/07
Nicktoons- Attack of the Toybots
&copy THQ/bluetongue
Platform(s): Wii
To Order: Win http://www.amazon.com/ $49.99